An Interview With The Shirts And Shoes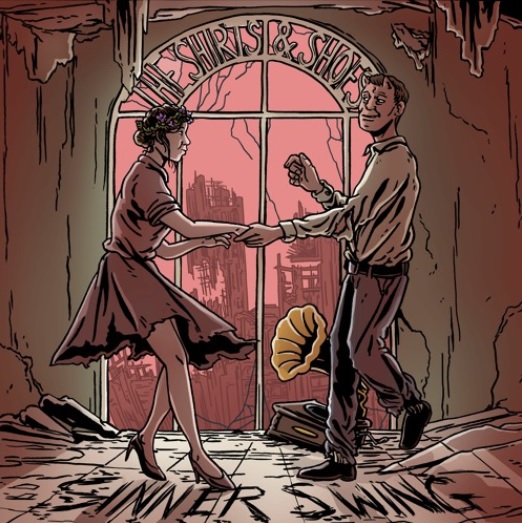 A new album release from The Shirts and Shoes brings on some gritty power riffs, tasteful guitar sections, passionate rock performances, and a heavy alt-rock tonality that crushes everything in sight from start to finish. 
The Sinner Swing album is perfected and shines with intricacy and detail as bass tones destroy, vocals soulfully belt every note, and drums pound with a vibrant life and the whole thing comes through with massive color.
There are elements of tons of rock influence and styles from 90's alt to classic rock, and everything in between. 
The record feels almost like Mr. Bungle meets  Local H and peppered on blistering open drop down open ended brutality and made it almost beautiful.
This band and this record has an unreal energy that doesn't let up for a second and it's addicting as hell. 
Alice In Chains comes to mind as does My Chemical Romance, Sevendust and plenty of others with each new banger.
The Shirts and Shoes have outdone themselves with this release as they gleefully push the envelope over and over. 
You can clearly hear how much fun these guys had creating this record and how much fun they must be to see live.
One of the best and most addictive tracks on the record is called "Wolf" and the chorus reels you in from the get go. 
It's got attitude and massive character as does the entire band. 
This is a record to crank up to 10 and bang your head along with in true arena rock form. 
Guitars shriek and rip, vocals tear and wail, and everything comes together like a punch to the gut. 
That's what the Sinner Swing album is. It's a rock n' roll sucker punch to the gut hard enough to make you drop to your knees and get up for more. 
With such a killer release, we wanted to have a chat with the band to find out where this all came from and what really inspired it. 
TSWS: Okay so let's start with "Wolf". This track has a sort of theatrical undertone with tons of alternative rock swagger! Where did this track come from? 
This track is sort of a brief glimpse at a moment that is escalating, so to speak. The record focuses a lot on mental health and we try to address that by using those sorts of theatrics. We chose "Wolf" as the single because we felt it stood out in that respect.
The video was super high energy and gave off a little of that 90's grunge feel just like the song does at times. Did it take long to finish that? 
We only had access to our filming location for one day, so it was all actually filmed in one night!
TSWS: Did the video come out the way you hoped? 
We were blown away when Jesse (our videographer) sent us the finished product! We knew we wanted to take a horror approach with it, but finding a location proved difficult. Once Eric Lowther of Haunted Overload graciously lended the haunt to us things really started to fall into place. Michelle's performance and Jesse's incredible camera work were what really brought our vision to life.
TSWS: "Wolf" is part of the Sinner Swing album which is absolutely righteous! How did you guys write songs for this record? All together? Is there one or two that do all the songwriting?
Tyler will sometimes come to the group with a base song idea and we'll all add our ideas. Other times Emiliano or Alec will start improvising riffs during practice and we'll suddenly get inspired and work from there. It's all very collaborative!
TSWS: You guys have a bunch of rock styles throughout the Sinner Swing album. Who are some of your biggest musical influences really?
Tenacious D, Arctic Monkeys, Black Sabbath, Soundgarden, Primus...there's a huge love for all things rock in our core DNA. But any of us are just as likely to be listening to any other genre as well. 
TSWS: So how did this all start for you guys?
Tyler and Eric met at band camp ages ago. After consistently being in a band for years they finally met Alec and Emiliano during college and the stars aligned. It's a tale as old as time. 
TSWS: What's next for you as a band? 
Right now we're taking it a day at a time. Covid's a continuing concern, so planning anything too far out is a little scary. We're just focusing on our next string of shows. 
TSWS: What are you all doing when you're NOT working on music?
Working, sleeping, enjoying the outdoors, and most importantly: staying out of trouble. 
TSWS: Who are you all listening to right now?
Tyler's been loving Strictly Speaking's new EP "Live and Kicking". Eric enjoys his morning tea with Lorde's new album. Emiliano has been listening to Gotan Project's album "Lunático". Alec has been listening to a lot of UK rock bands such as Tigercub, Dinosaur Pile Up and Demob Happy.
TSWS: This album feels like a big undertaking. Any advice you have for other up and coming bands out there? 
No. We barely know what we're doing. But we always think it's best to work with your friends.
TSWS: Are you planning any live performances in the near future?
Yes! We have a few shows coming up in the next couple months in the Boston area. Details for those shows can be found on all our socials.
TSWS: Before we go, what would you like to say to fans of the music?
Hail Paimon, baby.