An Interview With The Swedish Railway Orchestra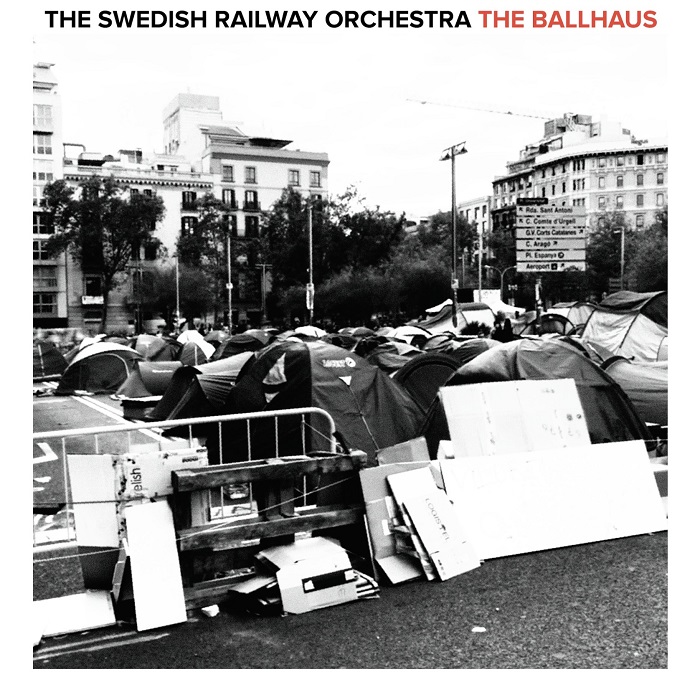 A new single dropped from The Swedish Railway Orchestra gives a deepening and slightly brooding style of alternative pop that beckons a classic undertone from decades passed. 
"The Ballhaus" is an engulfing and ever progreesive single that has a way of swallowing you whole and letting you drift about in the song's sound waves.
The track is built of synths, pianos, and distanced vocals that all come together to feel like a dream of sorts. 
The beat is classic 90's style and it really works perfectly for the track. 
This is a fairly intense and very cinematic release and it keeps you afloat with the song's whole vibe. 
There is a great energy to this single and it has a way of grabbing you as it has this ambient tonality to it. Especially the piano which is the root of ths track really. It swirls around you and takes you along with it. 
All the sound both natural and digital come with this gorgeous and graceful performance and it all lets you float away with it.
Thing is, it's best to let it do so. Let it take you as it drifts through it's own atmosphere. 
This does have that nostalgic aspect to it. Like a sort of darkwave almost creepiness that haunts as you listen. But that;s part of what makes this so addictive. 
"The Ballhaus" also comes with an amazing music video that accompanies it so well it's almost outlandish. 
The video is shot in black and white, and fits this track nearly perfectly. 
It's one of the best ways to actually check it out. 
With such a beautiful release, we wanted to have a chat with the band to find out where this track actually came from and what may have inspired it to happen. 


Here's what happened.
TSWS: Okay so let's start with "The Ballhaus". This track has a great classic alt-pop feel to it and combines some great instrumentation. Where did this track come from?

The Ballhaus was actually one of the first songs I recorded as The Swedish Railway Orchestra and, at the time, I never released it anywhere and only showed it to a few friends. It was an instrumental piece, as were all the very first tracks. I revisited it around a year ago, added some vocals to the piece, mixed it a touch better and, hey presto, the finished product is a fine song.

TSWS: I'm hearing several styles on this release. Who are some of your biggest musical influences?

I'm forever told that people hear a lot of LCD Soundsystem in my songs, and they are an influence. But I'm more directly influenced by bands like Suuns, Jape, Talking Heads, Daft Punk and The Brian Jonestown Massacre. Plus lots more non-musical influences that inspire the music. 

TSWS: The video was awesome! Did you guys think of the concept? Did it come out how you expected?

It came out better than I expected. I knew I wanted a haunted house and a feeling of isolation which compliments the music nicely. I'm glad the video shows these feelings.

TSWS: So how did this all begin for you really? When did you fall in love with making music?

Listening to The Beatles as a child. The chord structures, the harmonies, the instrumentation, the excitement, the genius of it all. I wanted to be a Beatle when I was younger and I absolutely still do. 

TSWS: What's next for you as a band?

Keep writing, keep recording. That's what TSRO is about and I'm glad people like it. I'd be doing it whether people were into it or not. There's no "it'll make or break you" type of thing with me. So, I keep recording and keep creating. 

TSWS: What inspires you to write a song?

I'm not sure. I've been asked that before and I don't have an answer. The Ballhaus lyrics, for example, were inspired by an experience I had in Clärchens Ballhaus in Berlin a number of years ago where it was this crazy scene of a band playing a rockabilly version of No One Knows by Queens Of The Stone Age in a sweaty, smoky setting. But the music is more haunting, so I changed some lyrics to reflect that, such as the "why do you cry inside the Ballhaus?" line. Nobody was crying in the place in Berlin. 

TSWS: What are you all doing when you're NOT working on music? 

Spending time with friends or family. Also I do a lot of DJing. I'm a resident DJ in The Workmans Club in Dublin and have been for a number of years.
 
TSWS: Who are you all listening to right now?

Lots of stuff. I've had stuff on repeat in the car from the likes of Toots and the Maytals, The Stooges, Can, Mandalai Lamas, Hot Chip, The Fall, Tood Terje, Stefan Murphy, Warpaint, The Cramps, Underworld and a pile more. 

TSWS: Are you putting any thought into live performances? 

TSRO is more of a project. And I've always seen and treated it as such. So live gigs aren't a thing. I have had offers to do gigs, and I've tried doing it solo with a laptop running loops and some live percussion, but it's not the same. I put out a remixes album a number of years ago and had an offer to do a Swedish Railway Orchestra DJ set in Germany, and did it playing some of the remixes and different mixes of the more house-sounding songs. They are surprisingly well received. So a TSRO DJ set is as close as you'll get I'm afraid. 

TSWS: Do you have a home studio where you track your stuff? 

I do. It's a small but worthwhile set up. Some classic synths like an ARP Odyssey, a few vintage drum machines like a 909, midi controllers, some drums, loads of percussion, some Gretsch guitars and some bass guitars, and other bits and bobs. 

TSWS: This track and video seems like a big undertaking. What kind of advice might you have for other up and coming artists out there?

The only advice I'd ever give anyone is to always remember that there are no rules as to how you make music. All that will ever matter is the finished product - the song. 

TSWS: Before we go, what would you like to say to fans of the music?

The best is yet to come.