An Interview With The Watershed Band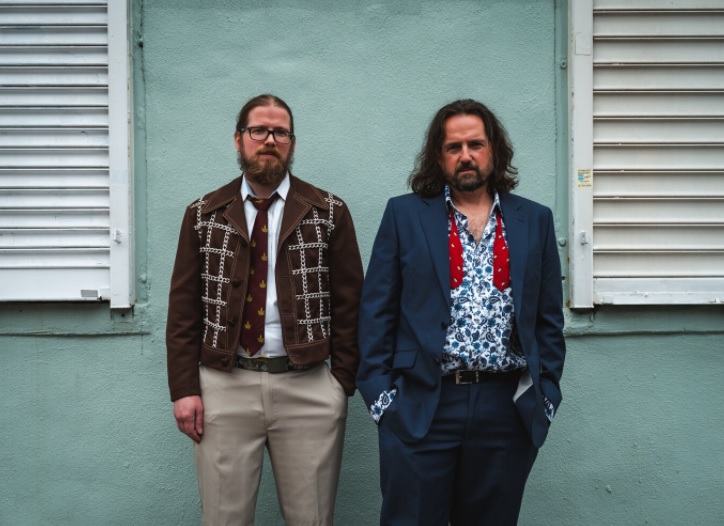 The Watershed Band just dropped a full length album that touches on several rock styles from classic rock to an underground lightly edged 90's rock and it all feels smooth and are comprised of vocal harmonies, electric and acoustic guitars, and the feel of watching a band perform live right in front of you. 
The Sunshine album is packed with catchy guitar sections and vocal hooks that both bring the twangy southern rock undertone and a more Simon & Garfunkel aesthetic all in one record. 
Songs have a killer grit at times and transition into cinematic soundscapes that feel like they were influenced by Pink Floyd. 
There is such a wide array of incredibly nailed rock on this album that its almost intimidating. 
The guys really have a knack for laying out songs that take you on little musical journey's ans with guitars swaying int he distance, organs swelling and keeping you afloat, and an honest lyrical approach, this release has a ton to offer.
Gorgeous arrangements, and radio style singles with juicy and fun songs in between, and a super lush and full sound all around, the Sunshine album has the ability to take you to another place all together and can do it with almost each new song you hear. 
The record feels almost like a concept record which it just maybe but either way, it should be listened to as a whole.
String sections boast that theatrical and emotional backbone and there is a ton of just outside the box guitar work all over the record which makes it addictive and super fun to soak in. 
With such a killer release, we wanted to have a chat with the guys in the band (which by the way is only two people) to find out where this all came from and where it may be going. Here's what happened:
TSWS: This record has a great folk rock and classic rock feel to it with some added edge. Where did this album come from?
This album started with Tom and Leon (me) writing music on our own and converging around recording, engineering and production.>TWB>  Tom is an established studio musician/engineer by trade, having worked in Rob Fusari's New Jersey recording studios for years prior to embarking on the Lady Gaga projects. Leon was splitting time between NYC and upstate NY and Tom living in Northern NJ where he was managing his home studio and working on various projects.We started getting together a few times a week to lay down demos for songs we had each been writing. Those initial 6 songs made up the basis for our album. In each case, we collaborated and fine tuned these initial songs, revising lyrics and adding parts We took these initial songs and collectively identified a "sound" based on folk and classic rock with an edge as you mention.We eventually connected with No Reverse Records and rounded out the album; writing the final songs together.We think the later written and recorded songs embody our sound - but the initial songs also give it a diversity.

TSWS: I am hearing some different and alluring musical styles on this. Who are some of your biggest musical influences?
Well we are Beatles enthusiasts and focus on our song writing, but we are also big fans of other genres. We have deep roots in classic country, ska and grunge so we like to think that anything is on the table when writing and producing.

TSWS: So, how did all of this start for you guys?
We are brothers so we have always had a shared love of music and performing. We grew up in the same house sharing instruments and comparing notes, passing along playing styles. There is an age difference between the two of us, so ironically in the same room where Leon spent hours writing and playing with Billy Howerdel, Tom spent hours writing and playing with Stefani Germanotta (Lady Gaga) years later. As we got older the difference in age was less material and it was obvious we had to pursue a collective music project and The Watershed Band was formed.

TSWS: What's next for you as a band? Anything new in the works even now?
We are currently writing and recording our next record. We feel this record will rival our first because there is so much more structure to our sound and process.>TWB>  We are targeting an album release in late spring early summer 2022.

TSWS: How do you write your songs? Is it lyrics first or music? Do you write songs together?
We commonly write songs / song ideas independently and when one of us feels we have something unique, we collaborate.>TWB>  Not every song is right for The Watershed Band, but when we settle on a song we want to move forward with, we both dig in. The best part about The Watershed Band is that it is truly collaborative without egos. Easy to say, but very hard to execute in reality. Lyrics, chords, melodies are all on the table for suggestion and revision.

 We are incredibly productive with the time we have available and both very committed to compromise and completion ("don't make perfection the enemy of good", model) That said, if one of us feels strongly about something, we trust ourselves and our process to make it happen artistically. 

TSWS: Do you guys produce your own stuff?
Most of our first album "Sunshine" is produced exclusively by Tom and Leon (The Watershed Band), however we did team up with a few people to complete the album.
The lead track "Someday" was produced by Billy Howerdel (A Perfect Circle / Ashes Divide)
The track "Marcie" was co-written and co-produced with legendary producer Rob Fusari (Lady Gaga, Beyonce, Will Smith, Whitney Houston, etc.)
We have been extremely fortunate to have their involvement.

TSWS: What are you all doing when you're NOT working on music?
 We both have corporate day jobs that morph into our musical alter-egos. We both have families and all the obligations that go along with that as well. We both have a strong love of the outdoors and open spaces that we try to stay involved in when we are not making music.

TSWS: Who are all you listening to right now?
We are big fans of Billy Strings (as much for his model) but heck we love the guy and everything he does! We really like the style of 21 Pilots and what they are putting out (and how they do it as well) As you can imagine we listen to a lot of the classics too (Beatles, Cure, Rolling Stones, Waylon, Willie, Townes, etc.) I'd add that we listen to a lot of our own stuff as we write and analyze our songs. It is a necessary thing and ultimately there is only so much time to listen.

TSWS: Are you guys putting any thought into live performances anytime soon?
Like all live music these days, it has been a challenge. We have done a few shows over the last year in a theater setting - the most recent show on October 20th 2021. As things open up we are ready to get out there and do more live performances.

TSWS: Before we go, what would you like to say to fans of the music?
 First off - THANK YOU!  Our fans are amazing! We think of ourselves as an organic brand that grows with each person we reach. We were blown away by the crowd in our last performance. This wasn't a "drag a couple friends to hear someone's band" event, it was a theater full of people singing along to every word, just incredible. We want to be known as the nicest guys in music, so I hope our fans feel we are living up to that. We also want to let our fans know that our next album is coming, so stay tuned! and thank you for all your support!