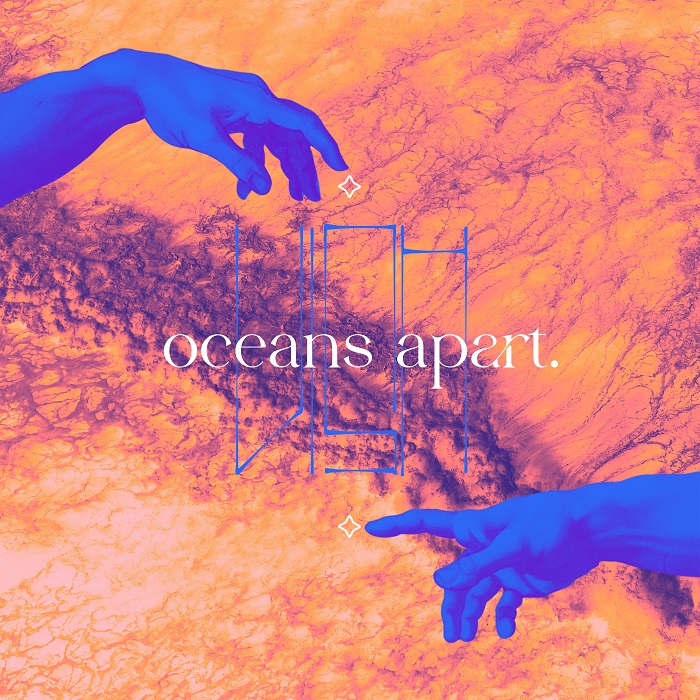 A single from VISH brings out a beautiful and sullen toned dream-rock in the form of a cinematic and impactful ballad loaded with strings, piano, and swelling tones building in the background that build into an alternative rock edginess with an anthemic and powerful soundscape. 
"Oceans Apart" shines as an epic piece with orchestrated tendencies and soft melodic vocals until the song explodes into a passionate rock climax when everything starts belting. 
This song certainly comes from someplace very real and you can feel that heart and soul embedded into the track and it's performances on all parts. 
This single boasts some heavily dramatic approaches and aesthetic and it's slightly somber and dark edged feel is feeding from the emotional drive the song began with.
This was absolutely gorgeous and had a way of pulling at the heart strings  and it's likely due to the genuine emotion involved. 
It's relatable and really shows the artist's presence as a songwriter and the ability to cause you to feel. 
The song does indeed make you feel and think and we need as much music like that as possible.
The theatrical aspects of the song only give it more impact and when it all bursts into the rock style it has a perfect flow. 
There are definitely layers to this single and with the release of it we wanted to have a talk with VISH to find out where this track actually did come from. 
Here's what happened. 
TSWS: Okay so let's start with "Oceans Apart". This single has a real orchestrated tone to it! Where did this track come from?
"The inspiration was to show a side of love and longing that hasn't been heard before. There's a massive personal influence on the song, It was born when I took one of the biggest decisions of my life to move to Dubai and part with the closest parts of my life. It's about the shared bond between friends, family, partners, and the subsequent after-effect and turbulent changes in one's heart and feelings.Originally, me and my best friend Aishwarya Ramesh penned the lyrics that later turned into a heart wrenching song. I wanted it to have a very stripped back, sombre feel, but as we started to curate, I knew it had legs to go further. Then I fleshed it out more and built it up to make it feel fuller. During lockdown, me and a good friend/producer Mehdi Riaz were trying to find the balance between the two – and a few years later, boom, "Oceans Apart" is ready for the world."

TSWS: I'm hearing some great styles on this release. Who are some of your biggest musical influences?

Bands like Alter Bridge, Breaking Benjamin, Creed, Queen etc.,have a significant influence on my current work. Ballads have always had my heart, so I wanted to create a song with immense "feels".

TSWS: What's next for you as an artist?

Well we are working on the release of Oceans Apart Music Video as we speak and the next track is already in works for a release in Winters. Definitely looking forward to finish the EP with these songs by next Summer. Hopefully people would love my song for me to Tour someday.

TSWS: What inspires you to write a song?
Listening to music from my favourite artists has always been a trigger for me to write songs. The usual process for me has always been Topic-Driven. Once I have a topic or situation for a song, I dive deep into it.

TSWS: What are you doing when you're NOT working on music?
 I work as a Data Analyst for a firm in Dubai as my main job for now. Along with that, I am big on Anime and Superhero stuff. You can say, I am a Weird Superhero myself.

TSWS: Who are you listening to right now?
At the moment, I am listening to my own track the most since its out on all platforms. I am obsessed with it. Also, a lot of Joji, Dean Lewis, Alter Bridge and Within Temptation. Along with music from my friends, Abi Orfila, Miranda Fae. They are incredible.

TSWS: Are you doing live shows as of right now? 
I am doing a few shows in Dubai along with the MV launch which is due this month.

TSWS: This single seems like a big undertaking. What kind of advice might you have for other up and coming artists out there?
I am definitely not big on advices as it took me years to put out my own Debut. But if I had to, I would say, believe in your own projects and keep crushing the ideas which keeps coming into your head to make it happen.

TSWS: Before we go, what would you like to say to fans of the music?
All I can say to this is, I am eternally grateful to each an every single soul who has been part of Oceans Apart, direct or indirect.Everyone who heard me play it non stop even before it was released, everyone who pushed me to keep making it better and better.I love you all. To my new friends who would be listening to this, I love you all too.